Security
RewardsPay's robust and scalable platform offers self-serve on boarding and integration, so merchants can make their products available to this new channel with ease. Our API-based platform seamlessly works with any web site or application without taxing scarce IT resources.
Reward partners can leverage an extensive and customizable digital merchants network and redemption platform. This unique combination enables the creation of a turnkey digital goods marketplace where consumers can instantly redeem their reward points for thousands of digital goods and services.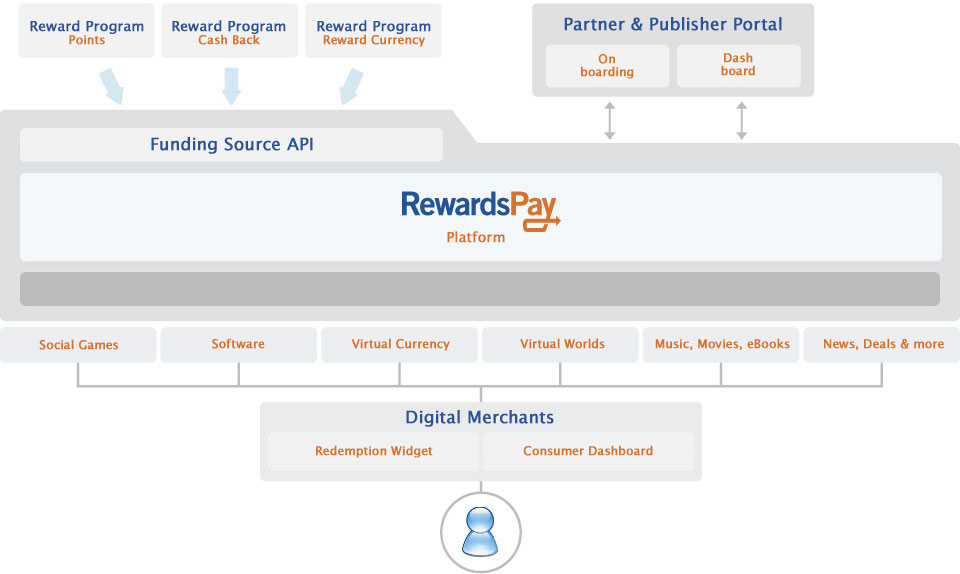 End-to-End Delivery
The RewardsPay platform was built from the ground up to handle every aspect of the digital goods redemptions, from sourcing, to order-processing and instant redemption through PIN based e-certificates.
Easy Integration
Setup is a breeze using RewardsPay's web-based APIs. Any merchant or publisher can provide their catalog of digital goods, simply integrate a few snippets of code into their web site or application and be up and running in less than a day.
Safety and Security
RewardsPay employs sophisticated, SAS-70 and PCI-compliant data centers, as well as data encryption and network intrusion detection technologies to prevent breaches, combat fraud and render compromised data unusable.
Robust, Transparent Reporting
Using the merchant dashboard, merchants have complete visibility into exactly what is selling and where. Easy catalog updates enable merchants to optimize their merchandise selections for best results.
Speed and Scalability
On average, transactions are processed in less than a single second, providing merchants and consumers with a superior response time using a scalable network infrastructure. Reward partners can browse, create a custom catalogs and update their reward portals with new digital goods on a daily basis.